Posts for: June, 2015
By Kenneth Woo, DDS and Associates
June 15, 2015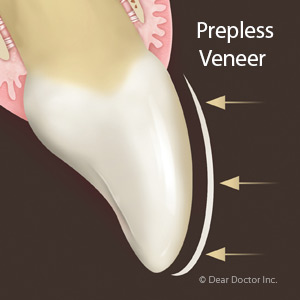 Porcelain veneers represent one of the best values in cosmetic dentistry, capable of radically changing a person's smile with little tooth surface preparation. Still, the small amount of tooth enamel usually removed to accommodate them will permanently alter the affected teeth, to the point they will require a veneer or other restoration from then on.
The traditional veneer has remarkable versatility for solving a number of minor cosmetic problems, correcting mild tooth positioning problems and replacing lost or damaged enamel. But to avoid an unnatural bulky appearance, a portion of the tooth enamel must be permanently removed to accommodate them.
In recent years, though, a new concept known as "prepless veneers" has emerged in the field of cosmetic dentistry. Understandably, this new, "drill-free" veneer application has caused a lot of debate among dentists and patients alike, with concerns of bulky, overly-contoured teeth resulting from the technique. But the concept is growing as many well-regarded dentists have incorporated both minimal prep and prepless veneers into their service offerings.
The prepless veneer offers a cosmetic solution that doesn't alter the tooth permanently. Using techniques such as feathering, which tapers and blends the veneer seamlessly with the tooth at the gum line, we can avoid an unnatural appearance while offering patients a much less invasive outcome.
The main disadvantage of prepless veneers at this time is that they're not appropriate in every case. In fact, careful patient selection is a key to a successful outcome. For example, relatively large teeth or teeth positioned too far forward don't work well with an added layer of thickness.
If, on the other hand, you have small, short or worn teeth, or teeth overshadowed by your lips — just to name a few likely scenarios — then you may benefit immensely from prepless veneers without permanent alteration to your teeth. A detailed examination is your first step to finding out if this new technique could provide you with a less-invasive smile makeover.
If you would like more information on drill-free porcelain veneers, please contact us or schedule an appointment for a consultation. You can also learn more about this topic by reading the Dear Doctor magazine article "Porcelain Veneers without the Drill."
By Kenneth Woo, DDS and Associates
June 08, 2015
Find out how clear braces could finally set your smile straight.
Are you looking to finally get that straighter smile? Tired of everyone noticing your crooked teeth rather than you? However, many teens or
adults dealing with this problem also don't relish the idea of wearing braces. While braces might seem like a rite of passage when we are younger, it can feel more like a nuisance as we get older. Luckily, your Gaithersburg dentists at Kenneth Woo, DDS and Associates offer Invisalign.
What cases can Invisalign treat?
Invisalign treats everything from mild to more serious cases. It can fix protruding and crooked teeth, as well as a variety of malocclusions such as overbites, underbites or crossbites. It can also mend gaps between teeth, and overcrowding.
Is Invisalign right for me?
Invisalign can be a wonderful option for someone looking to get a straighter smile without wearing traditional braces. Invisalign is right for most teens and adults with malocclusions and other common dental problems; however, it won't be the right treatment for children and some young teens since their teeth are still growing.
Invisalign is usually best for someone responsible enough to wear their braces. Since Invisalign aligners can be removed, it's natural to want to take your braces out more often that you should; therefore, you need to be disciplined enough to wear your aligners for about 22 hours out of the day. While you can take your aligners off to eat, brush and floss, it's important to continue to wear them the rest of the time.
Furthermore, it's not uncommon to wear a retainer following your Invisalign treatment. But your Gaithersburg dentist has seen many patients ignore their retainer regimen, which ultimately causes teeth to shift back to their original position. Therefore, it's important that you are dedicated fully to your orthodontic treatment to make sure you get the results you want.
Are you interested in finding out if Invisalign is right for your smile? If so, then it's time to pick up the phone and schedule a consultation with Dr. Kenneth Woo, your Gaithersburg dentist. Finally get the smile you've always wanted with Invisalign.