Posts for: February, 2015
By Kenneth Woo, DDS and Associates
February 23, 2015
We're always tickled to see dentists represented in popular culture, especially when portrayed by an actor as handsome as John Stamos. On the hit television show Glee, Stamos played a dentist who made sure the glee club members cleaned up their act when it came to oral hygiene — though perhaps he used a bit too much anesthesia to achieve this admirable goal. While under his care — and lots of sedation — several Glee characters had music-infused hallucinations in which they danced and sang with pop star Britney Spears.
Far-fetched? No doubt. Still, it's worth mentioning that sedation has its place in dentistry. In fact, if you are someone who tends to get anxious or even fearful about dental treatment, you should know that sedation can help you relax both mind and body so you can feel peaceful rather than anxious in the dentist's chair. And that's the whole point: Fear of pain should not stand in the way of your getting the care that will keep you healthy and allow you to keep your teeth for as long as possible.
You may not know this, but when you are afraid, your threshold for pain is actually lower. You become hypersensitive to every sensation and sound, and you tense your muscles. Fear and anxiety trigger the release of certain chemicals that put you in "fight or flight" mode. In this heightened state of alert you experience more pain during and even after treatment.
The good news is that this response can virtually be eliminated with various oral sedatives and/or with nitrous oxide, which is inhaled. Both treatments will allow you to let your guard down and relax. Your apprehension and hypersensitivity to pain will disappear, even though you are still conscious. And when you are relaxed, we are better able to focus on the task at hand, knowing that you are comfortable.
The sedatives used in dentistry have been subjected to rigorous testing and have a strong safety record backed by decades of use. Several even have "amnesic" properties, meaning that you will remember little to nothing of your treatment — unless, of course, you end up singing and dancing with Britney Spears!
If you would like more information about sedation in dentistry, please contact us or schedule an appointment for a consultation. You can also learn more by reading the Dear Doctor magazine article "Oral Sedation Dentistry." Dear Doctor also has more on "Overcoming Dental Fear & Anxiety."
By Kenneth Woo, DDS and Associates
February 13, 2015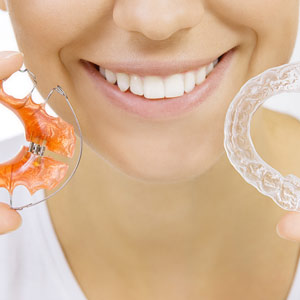 Orthodontics can produce an amazing smile transformation. With today's advanced appliances and techniques even the most difficult malocclusions (bad bites) can be overcome. All of this innovation, however, depends on one basic anatomical fact: though firmly set in the mouth, our teeth can still move.
Teeth are actually held in place by the periodontal ligament, a strong, elastic tissue that attaches to them through tiny collagen fibers on one side of the ligament and to the jawbone with similar fibers on the other side. When pressure is placed against a tooth, the bone on the opposite side of the force begins to dissolve (resorb), allowing the tooth to move. As it moves, new bone is built up behind the tooth, to stabilize it. Orthodontists take advantage of this natural mechanism through orthodontic hardware like braces that applies pressure in the desired direction of movement, while the ligament and bone do the rest.
There is, though, a downside to this process. The teeth, bone and gum tissues can contain a kind of "memory" for the former natural position of the teeth. Over time, the lower front teeth tend to take a gradual migratory movement back towards their original position. Also, as we age the lower front teeth may crowd each other as there is a genetic influence for teeth to move to the midline of the face, causing a pressure that allows the skinny lower front teeth to slip behind each other. As a result of both of these tendencies, corrected teeth may retreat from their new positions.
To stop these tendencies, we use an appliance known as a retainer after braces or other hardware is removed. As the name implies, this appliance "retains" the teeth in their new position. For structural "memory," the retainer will keep the teeth in their new position until the impulse to return to the old one has faded, about eighteen months. Retainers can also slow or stop the natural genetic influence of movement, but it may mean wearing a retainer for an indefinite period, especially individuals who've undergone orthodontic treatment later in life.
The length of time you'll need to wear a retainer after braces — and what type, whether a removable appliance or one permanently attached — will depend on a number of factors including the type of malocclusion, your individual mouth structure and age. We'll recommend the best option that ensures the best chance of keeping your teeth in their new position.
If you would like more information on retainers after orthodontic treatment, please contact us or schedule an appointment for a consultation. You can also learn more about this topic by reading the Dear Doctor magazine article "Why Orthodontic Retainers?"